Editorial
    • Editorial - March 2007

Interview
    • Prevention and Intervention
    • 1967 – 2007 - Quo vadis Israel ?

Analyse
    • Negotiating in Bazaar
    • Islamism Multiculturalism and the Jews

Justice
    • The Kepiro Affair

Azerbaijan
    • Jerusalem and Baku
    • Yevda Abramov
    • Journey into the unreal

Turkey
    • Jerusalem - Istanbul

Judea and Samaria
    • Rebirth of a Vineyard

Ethic and Judaism
    • An Accessory or Just a Friend?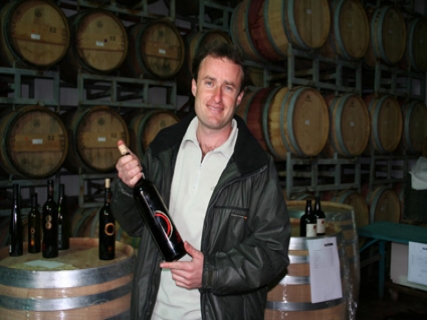 Yaacov Berg, manager of Psagot Winery. Photo: Bethsabée Süssmann
In our travels across the Jewish lands of Judea and Samaria, we often stopped in towns and villages that had only been set up a short time ago. At each stop we met courageous men and women determined to set up a solid basis for Jewish life on our ancestral lands. Today we are going to present another aspect of the rebirth of these areas, wine.
For the purpose we went to Psagot, which had already been a wine growing region at the time of the Second Temple. According to some historical narratives, the Romans especially prized wine from Israel, and that was long before France and Italy became the standards in this field.
In order to find out about this young/old vineyard, we met YAACOV BERG, the manager of the Psagot Winery, the largest one in the area, since it sells over 50,000 bottles annually.

How and why did you get started in wine growing?

My family is in agriculture and we used to grow grapes for eating. Because of their quality, we were always being asked to get into wine production. It is well known that you cannot make good wine from table grapes. So we changed direction and decided to run a trial by creating a first wine, which was well received.

Can you describe in a few words what targets you aim for producing wine here?

As you are aware, we are in a region where growing grapes is very ancient. Even though the land had been abandoned for a certain amount of time, the land lends itself particularly well to this type of agriculture. Our vineyard is located in the Judean hills, some 25 km from Jerusalem, and most of our wines are to be found just a few meters from our winery. What's more, the vines are growing at an almost ideal altitude of 960m, in soil that is both rich and rocky. Since the temperature varies by 10 degrees between day and night (even in summer), this allows the grapes to mature longer and provides a greater variety of tastes in the grape itself. In addition to wines from our own vines, we also use grapes from vineyards round about, such as Dolev, Har Bracha and Matta (south of Jerusalem). Our concept is to produce a rich, full wine for a demanding palate. To do that, we combine ancient and ultra-modern techniques with the quality of the Israeli terroir. In this we seek to create special wines of excellent quality and that are also kosher. We age our wines in French oak barrels (and a small percentage in American oak) in cellars dating back to the Second Temple period, where we found a wine press from that time. Port is matured in barrels of French oak that remain outdoors.

When you mention special wines and excellent quality, what exactly are you thinking of?

I think the example of our port illustrates our approach very well. It is a very sweet wine, sweetened solely by the natural sweetness of the grapes, without any sugar added. We in fact received a gold medal in Italy for this wine. It is very important for us to produce a wine that fully reflects its origins, the special grapes and the fact that it comes from somewhere unique in the world.

When did you put your first wine on the market?

In 2003 we launched our first production of 4,500 bottles of Cabernet Sauvignon and a limited edition of 700 bottles of port. In 2004 we started selling our first Chardonnay and a Merlot. In 2005 we brought a wine called "Edom", a mixture of 75% Cabernet and 25% Merlot, and a "Voignier", a red wine with a very special taste.

Who are your customers?

We sell a lot of wine in Israel itself, in specialist shops and higher-class restaurants. Our wines are not bought to be kept, but for immediate consumption. It is true that some of our wines are better after two years, but they can be drunk today. We export a lot to the USA, where there is an orthodox market that obviously only drinks kosher wine.

What future plans do you have?

We are not looking to increase the number of types, but rather to choose certain types of grape in order to obtain the very highest quality possible. That's why we are so demanding in our criteria. We have the advantage of a magnificent and well-suited production area, high-class varieties of grapes and an elaborate winemaking process. Naturally, we do everything so that the color, bouquet and taste make our wine the most desirable possible. To achieve this, I am currently negotiating with an Australian wine-growing expert, who has agreed to act as a consultant.
We intend to purchase more vines in our area and in due course to get into growing Shiraz, a grape that basically only grows in the Upper Galilee, but to which our region lends itself well.

The wine profession is not so widespread in Israel. Is there a school and were you trained?

Once people drank wine to get drunk and to forget their problems. Today, this is perhaps achieved with alcohol and spirits of every sort. Drinking wine is part of the quality of a meal. This is gradually filtering into the Israel mentality, where people are increasingly drinking a bit of wine. So there is a demand for professionals and there are several training centers around the country. I did take a course, but I mainly learnt the trade on the ground and by doing apprenticeships in vineyards around the world.

Your vineyard is located in Judea, an area in which the Jewish presence is regularly questioned politically. Following the expulsion of the Jews from Gush Katif, do you not fear that one day you will be forced to abandon your life's work?

In the same way that our forebears did not come to Israel to be chased away, we have not built and developed everything you see around you so that in the end it can be destroyed. What's more, we are located in a highly populated area, where the population is increasing from day to day. On this point we are both realists and optimists, remaining on our guard all the time. Having said which, for the time being such an evacuation is not on the cards.