Editorial - April 2005
    • Editorial April 2005

Pessach 5765
    • Leaving Egypt ?

Analysis
    • Muslim Europe in the Making

Strategy
    • The tightrope walker

Interview
    • Shalom Tsunami

Justice
    • Operation Last Chance

Portrait
    • Music – Prayer- Freedom

Medical Research
    • Can you hear ?

Belgium
    • The Shoah in Belgium

Halacha
    • The Last Smoke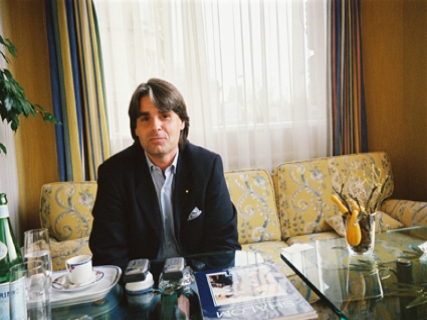 Ion Marin
The lights are dimmed. The last instruments have been tuned. Total silence reigns. A side-door of Zurich's magnificent Opernhaus opens and ION MARIN makes his entry – noteworthy and noticed. The hall absorbs his strong personality – he raises his baton and the music superbly bursts forth, entrancing a captive audience. But who is Ion Marin?
"Music and me – we met – the day I was born', crooned Enrico Macias. The same claim can also be applied to this conductor, who despite his young age (he is just forty), already has behind him a career that is as rich as it is promising. A quick look at his professional career is enough to be impressed by the list of orchestras he has conducted: the London Philharmonic Orchestra, the Leipzig Gewandhaus Orchestra, the Montreal Symphony, France's Orchestre National, the Israel Philharmonic Orchestra, Dresden's Staatskapelle and more. The list does not end there, and today Ion Marin has a solid reputation as a conductor for both the symphonic repertoire and opera. He has performed at the most famous venues in the world, New York's Metropolitan Opera, Berlin's Deutsche Oper, the Opera Bastille in Paris and at many prestigious opera houses in Italy. The most beautiful voices of our time have sung under his baton, including Jesse Norman and Placido Domingo to name but the most famous among them. Apart from his public appearances, Ion Marin has a remarkable recording career. Between 1990-1994 he led a series of recordings with the London Symphony Orchestra, that received worldwide, unstinted praise.
But beyond his professional career, which can be easily retraced on the Internet, it was the man, the Jew and the artist we wanted to find out about.
Ion Marin was introduced to me last autumn at the Zurich Opernhaus at the end of an extradorinary production of La Cenerentola by Rossini, which he conducted with his usual brio. This opera, described by Rossini himself as being "brilliant, funny, moving, and the most mature and profoundly human of his scores", perfectly typifies and defines Ion Marin's conducting style. The next day we met in the lounge of one Zurich's large hotels, and for over an hour and a half we talked of how he sees his career and the way in which he goes about it.

Up till now your professional career has been most impressive. Do you come from a musical family?

I was born in Bucharest to an Ashkenazi mother and Sephardi father, a couple that reflected the make-up of the pre-war Rumanian Jewish community, when the two communities lived side by side. Following the Shoah and with the advent of communism, the two communities were obliged to combine, which led to the atrophy of the Sephardi community. With time, and such is still the case today, there was only one type of religious service, and Sephardi culture disappeared. The only thing the Sephardi community has of its own is its cemetery. On account of my origins I consider myself happy and enriched to have been able to benefit from both traditions; I understand Ladino well and speak Yiddish fluently (apart from five other languages, including Hebrew). Apropos music, my father is a choirmaster, he conducts the Bucharest Madrigal Choir, and my grandmother's first cousin was the famous pianist, Clara Haskil. I actually started the piano playing pieces that had belonged to her in her childhood.

What training did you receive?

I did my musical studies at the George Enescu Musical Academy in Bucharest, then at the Salzburg Mozarteum and the Accedmia Chiggiana in Siena. I play the piano and violin. I started conducting in Rumania, first in Transylvania and later on the radio in Bucharest. Then I decided to go to the West. In 1986 at the time of the Gottfried von Herder Prize awards in Vienna, I had only a one-week exit visa, but I did not return to Rumania. The pressure had become too strong, it was applied at every level, made up of different sorts of constraints, both cultural and human. The decision was not an obvious one, since my wife had stayed in Bucharest. My entire family then suffered various pressures and reprisals. But I had a lot of luck, for after six months I started working at the Vienna Opera as assistant to Claudio Abbado. I became an Austrian citizen after little more than a year and I was able to get my wife out of Bucharest.

You speak of pressure you suffered in Ceausescu's Rumania. Did you feel limits on your musical freedom of expression or in the way you could pursue your career?

Absolutely. For example, all sacred music was entirely forbidden, whether its was Bruckner's Te Deum or Schönberg's Kol Nidrei. You can easily imagine what it is like for a musician to be denied access to sacred music. Let's not forget that music is the most subtle form of prayer, it is entirely open and accessible to all races and all peoples. If the mystical side of music is suppressed, you are just left with technique. It's as though a poet was denied the right to use metaphors. Having become a conductor very young, I had the possibility of making the acquaintance of and working with a very wide repertoire, but I never really envisaged myself growing old in an oppressive system. Strangely enough, being Jewish got me a few small privileges, especially the ability to travel a bit in the West. In fact the authorities realized that if I could not work elsewhere than in Rumania, I would ask to go on Aliyah (emigration to Israel), which they wanted to avoid at all costs.

Despite everything, had you thought at any point of settling in Israel?

Yes, especially as a large part of my family lives there. But despite that, I did not put in a request.

Why?

From my family and cultural traditions, and my studies in philosophy and the history of religions, I always had the feeling that I had a mission to carry out within European culture, especially in relation to the Jewish contribution to that culture. At the beginning of the third millennium, I believe it is extremely important to claim the credit for our contributions to medicine, culture, mathematics and other spheres, in a nutshell for everything we have given the world in general and Europe in particular in the period we lived outside of Eretz Yisrael, in exile and often under the most atrocious conditions. If we do not take the credit, if we do not remind the world what our contribution was, someone else will hijack it, and I believe that we, in particular our generation, do not have the right to let something like that happen. Notwithstanding all the love I have for Israel, I feel very strong links to European culture. Each of us has to ask himself the question what can he contribute, and I think my own contribution is expressed in this way. Further, and curiously, in Israel an artificial barrier has been erected between Jewish artists and Israelis, which creates an additional and useless complication. This is all the more negative since we are not just a nation or a religion, but both of them.

In concrete terms, what are you doing to promote your "mission"?

I have been a member of Bnai Brith for several years, and my original lodge in Bucharest was the Moses Rosen Lodge, named after the former Chief Rabbi of Rumania. This lodge is a starting point for promoting the Jewish contribution to European culture. I also feel a certain duty to do a bit to revive Jewish culture in Rumania. At the 1938 census, the Rumanian Jewish community had almost one million members. Today just 5,600 remain, of whom the majority are elderly or positively ancient. These million Jews who lived in Rumania richly and resplendently fashioned Rumanian history and culture. My initiative within this lodge is my activities to make sure our contribution to the country's history be recognized and not forgotten.
In addition, I am currently working on a new project to record a series of sacred music that includes Christian music by Jewish composers such as Saint Saens, Mahler, Mendelssohn and others. We live in a Judeo-Christian world that at the philosophic and moral level must be regarded as a whole, and we cannot allow anti-Semitism to destroy this. I am thinking of recording this series with the chamber orchestra I founded in Berlin with musicians from the Philharmonic Orchestra. Since this is an educational project, I intend to include a narrator to explain the mind, the historical circumstances and intentions of the composer for each work recorded.

You have spoken of the importance of sacred music. When you conduct a work of this sort, especially a Jewish one, do you feel something special, different or additional than for a secular piece?

I am not a practicing Jew in the true sense of the term, but I am very much a believer. I do my best to handle this double status: a being created by the Almighty and an individual who exists in his own right. That's how I carry out my work. There can be no doubt that when I conduct a piece of sacred music, I develop a special sensibility. One of the pillars of what I will call my "internal temple" is Gustav Mahler, and when I conduct one of his works, like a large proportion of those of Jewish composers from the late 19th and early 20th centuries, I feel a deep sense of identification. In fact, in most of their works I discover that Chassidic songs are the basis for some of the themes. For me, Mahler is a living phenomenon and not just a composition. The approach of all Mahler's symphonies has a religious component.

You conducted a series of concerts with the Israel Philharmonic Orchestra. What have you retained of that experience?

Indeed, about nine years ago I did a series of ten concerts with that orchestra in Israel, where we especially played the Rachmaninoff Concerto and Shostakovich's Fifth Symphony. What gave me particular pleasure afterwards was to play with the Young Israel Philharmonic at the Verbier Festival. That was a great encounter. Even though I go regularly to Israel to visit my family, scheduling has for the time being not allowed that experience to be repeated.

How do you perceive the relationship with the audience ?

After five years at the Vienna Opera I took two decisions: the first was not to tie myself to a single opera or symphonic organization, because I felt this need to get to know the world and the audience directly. You have to understand that after twenty-five years under the Ceausescu regime, I was really very thirsty to discover the world and to try to understand it. Moreover I do not think that in these times it is useful or beneficial to invest too much time, effort and energy in just one place. I left Vienna of my own free will because, strangely enough, I felt there the beginnings of constraints on my independence in my work. I had in fact the feeling, following the fall of the Berlin Wall, that slowly but surely the Hapsburg Empire was on the point of being reconstituted in Europe, with all its negative aspects. The second decision was to move with my wife to Switzerland, and we settled in Lugano eleven years ago. There I found total independence in my work and benefit from a type of freedom that very few artists enjoy today, because they are often tied to an institution, a town, or even to a political system. I thus became a "top of the range" independent, and I have conducted the best orchestras in the world. As a "young" conductor, it is evidently inconceivable that I take over the direction of one or other prestigious orchestra. To illustrate my answer to your question, I will cite you an experience I had in Moscow in the autumn of 2004. It was the first time I had returned behind what had been the Iron Curtain. I conducted No Dream in a Summer's Night as part of an Alfred Schnittke Festival in the Great Orchestral Hall in Moscow, where Tchaichovsky had once worked. I was amazed by the openness and participation of the Moscow public. The audience is part of the musical phenomenon. I consider music to be a form of sacred language, and being able to bring together audience and orchestra in the interpreter's prayer is simply majestic. In a way, it's as if during a synagogue service the "minyan" (the quorum of ten men required for a Jewish, public religious service) joins in the payer in unison with the officiating minister. Of course, there are different types of audiences: the snobbish one, the cold one and the one exclusively focused on social gatherings. Yet today I am meeting an ever younger audience, that lets itself be carried away by the magic of classic or contemporary music. The idea that opera and the great symphonies are exclusively reserved for an elite is gradually becoming considered a gauche, outdated myth. Culture is not stuffed down your throat like the force-feeding of geese for foie gras. It's a matter of education and personal effort. In this sense I say that the text, often incomprehensible, is not very important, and by the way I am against subtitles like they have at certain opera houses in Switzerland, because that cuts a large part of the access to the transcendance that music can provide. Let's not forget that true listening to music constitutes a kind of encounter with the self, and if part of the brain is being used to read subtitles, listening has simply had the sacred removed from it. Imagine that someone just reads the text of a prayer without involving his heart or mind, he will never be able to access the sacred dimension and sense the opening up towards the divinity.

A lot of your activity takes place in Germany, in particular with the famous Staatskapelle in Dresden, the Bayrische Rundfunk in Munich and also in Berlin. Are you fully at ease when you work in that country?

I have very mixed feelings on that subject. Often, when I am in the street in Germany, especially in eastern Germany (because of its communist past and my life under the yoke of that type of regime), I cannot stop myself being overwhelmed by memory, and thoughts about Germany's recent past come to mind. However, there too, and perhaps more than elsewhere, I recall what we Jews gave to Germany over the centuries, and the primary role we played in that country in every field and in culture in particular. Cutting off all relations with Germany risks losing us this credit that we have accumulated over the centuries, and we certainly cannot permit after all that it has committed for Nazism to deprive us of this too. Yet today there is a trend, albeit still weak and timid, that is moving to have our historical contribution gradually forgotten. In this sense, when I refer to the Shoah, I never speak of the Nazis but of the Germans, because they must take responsibility for their history and for what we lived through in that country. To this must be added that I am absolutely convinced that music is something that encourages better understanding between peoples. In my relations with Germany, even if the memory is very much present in my mind, I refuse to burn my bridges with it because I believe that at the end of the day that would have negative consequences for us too. Our contribution would be very quickly forgotten and we would have virtually no way of correcting the situation.

In your work have you encountered anti-Semitism to the degree that you were stopped from giving a performance or accepting a job because you were Jewish?

Yes, and it did not happen in Germany! However, I must sadly relate that I was also discriminated against by our coreligionists because I was Jew from Eastern Europe, and I was neither an American, a Russian nor an Israeli.

What future plans do you have?

In the immediate future I am thinking of extending my "wanderings", which is to say I want to conduct as many orchestras as possible all over the world. In addition to my plans for sacred music that I have mentioned to you, I have various recording projects under way.

Are you thinking of training young conductors?

No. You see, the techique of conducting can be learnt in any conservatory. But the conductor is a generator of music and not some gentleman in a black coat and a little baton that he waves in front of the orchestra. He is the only one with the whole score, whereas every instrument has before it only the notes for its own part. The entire direction is a matter of tempo and breathing. In fact, the conductor is always a step ahead of the note that is going to be played by the rest of the orchestra. This being ahead is less than a second, in a certain sense, but it is something accepted by the orchestra , singers and choirs. The note played that the audience hears was conducted a second earlier. That cannot be taught, it is not a technique that someone can learn. The conductor is in fact both the brain and the heart of the concert or the opera. Metaphorically, you could say he is asking a hundred people to have their hearts beat in unison with his. Such an approach seems to be equally impossible and fabulous.
But that's what I feel every time I conduct, I feel the vibrations of the orchestra and of the audience before I enter the hall. The conductor's alchemist's art lies mainly in his ability to adapt to orchestra and audience, all the while keeping to the score. That means knowing how to improvise, adapt the tempo, the dynamics and the intensity as a function of the reality of the moment. Therein lies the secret of what is generally called the art of conducting.