Editorial - April 2005
    • Editorial April 2005

Pessach 5765
    • Leaving Egypt ?

Analysis
    • Muslim Europe in the Making

Strategy
    • The tightrope walker

Interview
    • Shalom Tsunami

Justice
    • Operation Last Chance

Portrait
    • Music – Prayer- Freedom

Medical Research
    • Can you hear ?

Belgium
    • The Shoah in Belgium

Halacha
    • The Last Smoke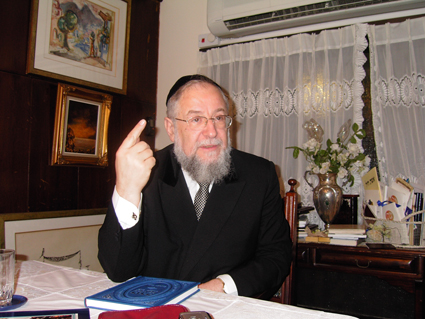 Rabbi Israel Meir Lau. Photo: Bethsabée Süssmann
For the modern Jew, the question comes up each year when the Festivals come round, "What is the significance and the message of this solemn celebration for our age, within the context of modern history?" For several years now we have been witnessing the rebirth of anti-Semitism in all its forms. Understandably, the Jewish world is worried, and with this background we asked the former Chief Rabbi of Israel, Rabbi ISRAEL MEIR LAU to guide us in our thoughts at Pesach this year.

Last December you made a public statement that was reprinted in all the major newspapers worldwide, that we are about to live through the end of Jewish life in Europe. Do you believe that for European Jews the time has come to "leave Egypt"?

I did not make my statement lightly. I am daily in very close contact with Jewry throughout the world. As far as European Jewry is concerned, I could see what was happening in situ. In the three months following Rosh Hashanah in 2004 I was in London, Antwerp, Vienna, Hamburg, Gdansk, Copenhagen, Stockholm and lastly Kiev, to meet the Jewish leadership and the rabbis of Ukraine. Having truly criss-crossed Europe, I came to the conclusion that the history of European Jewry, which has been both so rich and so blood-drenched, was in fact on the point of coming to an end. There are several, fundamental reasons for this: anti-Semitism, assimilation and emigration to Israel, which of course is the positive alternative. Since 27 January, commemorations of the sixtieth anniversary of the end of the Second World War have been continuing apace. They started at Auschwitz with a ceremony recalling the liberation of the death camp, in the presence of several Heads of State and where I recited Kaddish in memory of the victims and in the name of the survivors. I think that this world that is so good at organizing remembrance ceremonies has in fact not learnt much of what happened sixty, sixty-five years ago. When you see the graffiti, read the newspapers, hear what Jews have to say, and when we get the point that the Chief Rabbi of France, my friend Joseph Sitruk, gave a rabbinic ruling that it was forbidden to walk around with a kippa in the streets in his country because of the dangers involved, that shows that the teachings of the past have been willfully ignored. To this reality can be added a certain number of objective facts, whose numbers speak for themselves. I will take the example of Sweden, where there are currently 17,000 Jews and 700,000 Muslims. The difference between these two communities is quite simple: the Muslims live their religion very actively, dressing in accordance with their traditions and sending their children to Madrasas, where above all they learn the Koran; the Jews are no longer practicing, they are increasingly involved in intermarriage and their children go to state schools. Faced with this sort of situation, can one reasonably envisage a future for these communities? It is the same state of affairs in Great Britain and in most European countries. France is a particularly sad case. This community is today made up of about 20% Jews of European extraction and 80% Jews from North Africa. You should bear in mind that hardly fifty years ago, no Jew, however assimilated or non-practicing he was, would go out in the street with a lit cigarette on Shabbat in Casablanca. The idea that a Jew would publicly desecrate the Sabbath in Marrakech or Djerba was simply unthinkable. Today, the Jewish community in France, where it should be borne in mind that the assimilation rate is higher among Jews of European origin, has a 75% mixed marriage rate! We do not need to emphasize the decline from smoking on Shabbat to this type of marriage, but it means that three quarters of Jewish children leave the family home to become assimilated. Now this situation has come about within a Jewish society that is basically warm, traditional and deeply rooted in Judaism. So what can we expect from Jewish society in Russia or Eastern Europe that for 72 years suffered the yoke of bolshevism, communism and atheism? A community brought up in total atheism, and that survived not just Hitler but also Stalin. Can we really count on it to ensure the survival of Jewish life, traditions and communities? Finally, in central Europe, and I am thinking particularly of Austria, Switzerland and Germany, anti-Semitism is very strong. What does that leave us, Spain and Italy? In the first anti-Semitism is very active, and in the second the rate of mixed marriages is very high. In this situation, where on the one hand assimilation is eating away at us, and where on the other hand anti-Semitism is lying in wait for us, I do not need to tell the Jews of Europe to leave. In fact, in a way history is repeating itself. At the time of the exodus from Egypt only a fifth of the people left with Moses, while the rest were lost to assimilation. So I believe that a goodly proportion of our European brethren will stay in their respective countries. 3,500 years ago, after we had been in Egypt for only four generations, just 20% of our people, who still considered themselves entirely Jewish, followed Moses. The other 80% chose to stay in Egypt, despite all the repression they had suffered: the forced labor they were made to carry out to build the cities of Pithom and Ramses (Exodus 1:11-13); selections like the ones carried out by the sinister Dr. Mengele, where, at Pharaoh's personal command, every newborn Jewish boy was drowned and the girls kept alive (Exodus 1:22); a type if Wannsee Conference during which the Egyptians had decided to annihilate the Jews as part of a "final solution" (Exodus 1:10), and so forth. Shortly after leaving Egypt, among the 20% who had left, one group quickly expressed the wish to return, recalling the quality of the food in the land of Pharaoh, passing over the slavery in silence. In a way, in Egypt there were many of the elements we find in the current situation: galloping assimilation and Pharaoh's anti-Semitism. In this connection I want to stress that the Kapos in the camps, frequently Jews, were not an invention of the Nazis but of Pharaoh, who had appointed two Jewish midwives, Shifra and Puah, to murder Jewish boys at birth. Today, all you have to do is open your eyes and take inspiration from our history to understand what is happening and how to act.

When can people know that the right moment has come?

No moment is more suitable than another, and I think each person needs to know when his time has arrived. I will quote you the example of a great European rabbi who died several years ago, the Chief Rabbi of Romania, Moshe David Rosen. In general, rabbis have but one objective, to attract as many people as possible to their communities. He did the maximum to ensure that his community reduced to the minimum, he pulled every string he had so that hundreds of thousands of Romanian Jews could move to Israel. Even though there were no diplomatic relations between Romania and Israel, he used all his contacts with Ceaucescu so that most of the faithful could get to the other side of the Iron Curtain. Another part of his great merit was that he was able to convince the majority of his community to move to Israel to settle, even though the security situation was difficult. What's more, he arranged for 5,000 Sifrei Torah to go to Israel, be refurbished and used throughout the country, in the army, in kibbutzim, in the villages of new immigrants and elsewhere. I want to show by this example that if a single man could succeed in his mission under the yoke of a Stalinist, communist regime, there is no doubt that the Jews who live completely freely in Europe can do what must be done before it is too late.

Do you not think, in the light of the situation you have described, that the rabbis and the Jewish lay leadership today have a special responsibility to save the Jews of their communities?

I am not in a position to tell each rabbi individually what steps he should take. However, there are two basic things to be done: firstly, the strengthening of Jewish education and Jewish community life, because without that, tomorrow there will be no one Jewish to talk to about Jewish life or possible emigration to Israel. In every community there is assimilation, especially among Jews from Eastern Europe, Israelis who for one reason or another have left the country, descendants of Shoah survivors and others. It is the rabbis' responsibility to bring all these people together and offer them a Jewish, communal life that will interest them. It is only when this first stage has been achieved and consolidated that the rabbis can pass on to the next phase and tell the faithful: "What are you doing here? - Go home". People who are not concerned about Jewish life will inevitably not be interested in Israel, with which they will have nothing in common. Let me make myself properly understood, I am not advocating the idea of a massive, immediate departure of European Jews for Israel, which would mean the closure of synagogues and communities, far from it.

So how do you think this "returning home" process can happen?

As I told you, it is essential to do everything so that an attractive, lively Jewish communal life exists. At every Seder night and at the end of Yom Kippur each year we say that famous phrase, "Next year in Jerusalem". This motto must be repeated daily in every Jewish community around the world. Then gradually, each family should send a child to study in Israel. I want to emphasize this point, because both the universities and yeshivot in Israel offer a level of teaching equal to if not higher than other institutions around the world. If parents do not have the means to send their child here, then it should be the communities' responsibility to provide the young people with the possibility of coming to study in Israel. That way the process will get started. Just as a single child assimilating can drag along the entire family, it is possible that one son or daughter coming to Israel, who will eventually find their future partner for life there, will pull along with them their entire family, their friends and, why not, a large part of their community. When I speak of the end of the Jewish communities and of Jewish life in Europe, I of course am not talking about a rapid, brutal ending, but a process that not only has been set in motion but is irreversible. We have two ways of managing it: the first, positively, by strengthening Jewish education, the promotion of marriage between Jews and emigration to Israel; the second, negative, which involves waiting until assimilation and anti-Semitism complete their ill-fated work. By the way, assimilation is not just a serious problem in Europe, it is also the case in the USA and South America.

So where is the hope?

In the promotion of Jewish education, and I have the proof. Today there are just a few towns in the world, outside of Israel, where assimilation and the number of mixed marriages are low. These are the cities where Jewish education is very advanced and where the majority of children (90%) go to Jewish schools: Manchester, Antwerp, Monterrey (Mexico), Panama City, the sephardic community of Sao Paolo, Johannesburg, Sydney and Melbourne. These, located at the ends of the world, have neither the number of coreligionists nor the infrastructure of the large Jewish communities of Paris, London or New York. But they have shown that if there is Jewish leadership like for example Rabbi Zion Levy in Panama, the Rabbi of Monterey or Rabbi Yitzhak Groner in Melbourne, and where the accent is correctly placed on Jewish education, mixed marriages are greatly reduced. I do not say they can be totally avoided, for a recent statistic has unfortunately told us that even in Chassidic neighborhoods in New York, there are today 3% of mixed marriages.
So you see, hope and the future are based on two essential pillars that are intimately connected: strengthening Jewish education and Israel.
Three thousand five hundred years after our departure from Egypt, history is repeating itself, and we have to understand it and act accordingly. That is the message of Pesach 5765, which calls out to each and every one of us.