Editorial - October 2005
    • Editorial

Rosh Hashanah 5766
    • Solidarity and Redemption

Interview
    • Quo Vadis Israel ?
    • Sensitivity and Determination

Analysis
    • Antisemitism and Alternative History
    • The Return of Antisemitism in Europe

Slovakia
    • The Europa Plan
    • The Jewish Resistance

Destiny
    • From Auschwitz to Urdorf

Ethic and Judaism
    • Who should pray and bless ?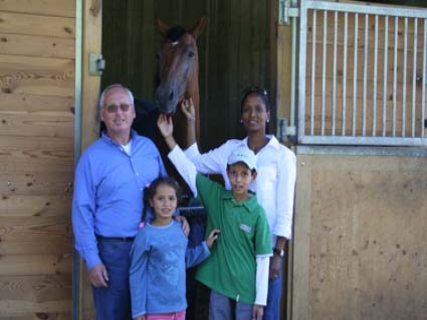 Richard Weiss and his family
Throughout history man and the horse have got on well together. But horses and the Jews? In the Bible, King Solomon was criticized for having slightly transgressed divine commandments not to possess an excessive number of wives and horses. As far as women were concerned, he had 700 princesses as wives and 300 concubines (Kings I, 11:1). As for horses, in the account of the visit of the Queen of Sheba to Jerusalem, we learn that King Solomon had "four thousand stalls for horses and chariots, and twelve thousand riders" (Chronicles II, 9:25).
The Weiss family, which lives in Urdorf in the canton of Zurich, Switzerland, certainly does not have thousands of horses, but it has a longstanding, deep and successful relationship with what is commonly referred to as man's most lovely conquest. But who is this special family that so pricked my curiosity that I asked them to receive me at their Urdorf ranch, "Stall Beliar"? Located nine minutes by train from Zurich, the place is stunningly beautiful, the air healthily pure and the atmosphere one of contagious calm.
Originally from Slovakia, the forebears of the Weiss family were horse traders, and have raised and trained horses for seven generations. The last one to practice this trade in Slovakia was Adolf Herbert Weiss, who came to settle in Switzerland following the Prague Spring in 1968. Unfortunately, Mr. Weiss passed away two months before my visit, but I was very warmly received by his sons, Richard and Miro, and by his wife Anna, originally from Lithuania, who had been deported to Auschwitz, where she was interned for three years.
So it was in an idyllic atmosphere at Ranch Beliar that I was amazed to discover the unusual story of this family, of which Richard Weiss told me the main points.

Before speaking of your profession, which some might characterize as "no job for a Jew", could you give me a short history of your family?

My father was born in 1921 into a quite an assimilated Jewish family in Bohemia, even though he went to a Jewish school, where the teaching was in German. His parents were Richard and Marvine Weiss-Weiss. My mother, Anna, was born in Trok, Lithuania, into a family of tailors. In the 17th century my great-great-grandfather sold horses to the army and court of Maria Theresa (1717-1780). My grandfather started his business by selling carriage and workhorses, before getting involved in the cavalry horse business. Having spent some time in three Slovak work camps, my father was deported in 1942 to a forced labor camp at Auschwitz, where he managed to survive for three long years. He always said, "I survived because I had the luck to be in the right place at the right time". On the day after his arrival at the camp, he received his meager ration in a dirty dish. He complained to the SS man who was there, and for an answer got a huge blow. He used to say that that famous slap saved his life, because it brought him up sharply. When he arrived at Auschwitz he was under the illusion that all that was expected of him was just "to work a bit and sweat a bit". Another example shows how much good luck there was in his bad luck. At some point the Germans opened up a small training center for bricklaying, and one day a supervisor came by saying he needed ten men for a particular job. He indicated ten volunteers, and one of them, panic-stricken, staggered. The German told him he did not to be surrounded by incompetents and ordered Adolf Herbert Weiss to take his place. That same day, another Nazi decided the camp did not need any new bricklayers, and had all the prisoners in that barrack gassed. Thus was my father saved. He worked in the ovens of the crematoria, where the bodies of gassed Jews were incinerated. Since the ovens could not handle the work fast enough, the corpses were piled up on the ground, and were used by him and his fellow prisoners as a seat on which to eat their meal of a raw potato. During the second half of his time in Auschwitz, my father got to know an Austrian SS man, who curiously chose to help him, which also helped him survive. He also managed to make contact with workers who came from the town of Auschwitz to work at the camp, and who arrived on horse-drawn carts. They got on well together and agreed, in return for some advice about their horses, to regularly give him bread. There are many stories like this. In the camp Adolf Weiss met the woman who would become his wife and our mother, Anna Konsky (curiously, in Slovak Kon means a horse). However, a Nazi had also fallen in love with her, and sensing the way the wind was blowing in the war, he expelled my father from the camp in March 1945. When leaving he told him, "I will return to fetch Anna and I will kill you" (which in the end he never did). My father did indeed go back to Auschwitz, where with the help of his old comrades in misfortune he managed to get back in by cutting through the barbed wire. As thousands of people were rushing to get out he managed to find my mother again. From there they went together to Slovakia, where they were married. Throughout this adventure he was accompanied by his best friend, Zoly Schapira. When he reached his place he discovered that all his horses and everything he had owned before the war had been stolen. So he had to rebuild his life and, of course, restart a horses business, which went quite well until 1948, when the communists nationalized it. He then became a "director" – in practice a state employee – of his own horse business, which no longer belonged to him. At that time there was a lot of commerce between Czechoslovakia and western countries, and many Swiss, Germans and Dutch came to buy horses. Since my father spoke German fluently, he became the official go-between for all these transactions. These sales were forever burdened with the red tape so typical of communist regimes. In 1956 he was even arbitrarily imprisoned for three months. His contacts proved very useful in 1968, when the entire family came to settle here, and once again my father had to restart his life.

You were born after the war. Did you get a Jewish education?

No, I didn't. The only thing we knew was that we had to avoid mentioning that we were Jewish. In fact the only place where we heard we were Jewish was in school, where our little classmates used throw out anti-Semitic barbs. Having said that, my father always remained Jewish, and when people asked him why he had not changed his name, he replied, "Everyone knows I am Jewish, so is it really necessary that I should be so with another name?" As for me, I arrived in Switzerland at the age of 20, and as I had attended Hotel school in Slovakia, I was able to work in restaurants in Zurich for two years. My brother Miro did two years of veterinary studies before emigrating from Czechoslovakia. But in 1970, when our father needed help, my brother and I went into the business. That year we opened a riding school with several horses. We didn't really have any means, but a friend of the family, Edgar Mannheimer of Zurich, decided to give us both moral and financial support. He considered himself morally in debt to my uncle, Hans Weiss, a former dental technician, who after the war could no longer work and who had settled in Switzerland with us; he had enormously helped his brother Max when he was in Auschwitz. Out of gratitude he did everything so that we could rebuild a new life, working in our own filed. Throughout his life Mr. Mannheimer always showed us the very deepest friendship and maintained very warm relations with our family. We are forever grateful to him for everything he did.

You started with a single horse. How many do you have today?

At the time our horse was called Martel. Today we have several young horses that we train here. For about forty clients we deal with some fifty horses abroad and about thirty in Switzerland. When we opened our riding school, we rented a small stable and started with one horse, then four, then eight etc. We got to earning our living and covering our daily expenses. At the same we gradually went back in the horse-trading business, especially for show jump horses. At the national level, Miro had lots of success. He won several show jumping competitions and was also a jockey. We also traded in racehorses, which had been our specialty back in Slovakia. In fact, when Miro was involved in horse racing, I had to prepare and ride the horses. With time, we came to work exclusively with racehorses. Today we are not only the most successful training center for racehorses in Switzerland, but also have the largest, private horse training area. My brother Miro, backed by a staff of eight, currently trains about fifty horses, both experienced ones and young hopefuls. We have a 1,400-meter course with wooden obstacles, and every day we take the horses for long rides in the forest. For the last seven years we have been the most successful stables in Switzerland. In 2004 my brother was declared champion racehorse trainer for the eighth time in a row.

Your business was above all buying and selling horses. How and why did you get involved in training?

Miro went back to something our father had abandoned. We bought horses that we then trained and put in to races, with a lot of success. Today we do this for many private owners who can afford this hobby. We buy mainly in Ireland, Germany, Russia, the Czech Republic and Slovakia. Our clients are mostly Swiss, with a few abroad.

Just then Richard Weiss's cellular phone rang. He apologized and answered. A few minutes later ha hung up, happy, and said to me, "For one of my clients from French-speaking Switzerland I've just bought a yearling at Deauville at an auction. He bought the horse sight unseen, just on the description and the recommendations of people he trusts who were there".

Have you maintained contacts with the Jewish community, and do you do any business in Israel?

I do not lead a Jewish life and I have no contact with the Jewish community. My wife, Julia, is Cuban; my son is called Ricardo-Aron and my daughter Lynn-Naomi. I hope that in their heart of hearts they feel something, let's say a liking for Jews and for the Jewish cause in general. But they are simply Swiss. Having said that, we are proud of being Jewish and have excellent relations with several Jewish friends. You should understand that among Swiss Jews we have an altogether untypical business, whereas in France a large part of the race horse trade is in Jewish hands. I have been to Israel, where we have family, but horse riding in general and horse racing are for the time being in a chrysalis stage there.

A well-known Robert Redford film was called "The Horse Whisperer". Doesn't the Weiss family's secret of success perhaps lie in whispering in the horses' ears – in Yiddish?

No, but I can say that our success is due to our origins; we are motivated by the search for excellence, by a constant wish always to be ahead, to do what others are not doing, to notice what our competitors do not pay attention to, and above all, not to hesitate to innovate.

Where does the name Beliar come from?

Beliar was a horse my father bought in Slovakia from a government stables, which thought it had no potential or future. My father realized that in fact quite the contrary was true. He got the horse for a knockdown price, because its owner was only too be pleased to be rid of it. My father trained it seriously, and it went on to win a large number of prizes.

How do you see the future of your business?

Currently we are very successful. We are the number one in Switzerland in our field and have an excellent customer base. We train apprentices, but I do not know in the long term whether my children will really be interested (which is what I wish) to take over a business that requires a feeling for horses and a full-time, daily commitment. You see, the horse world is a passion combined with fascination, and our family has a lot of experience and a long tradition in the field. But for the time being we are profiting from our success and are calmly looking forward to the future with confidence. When I consider the road our family has taken, what we were able to build from nothing and the happiness my wife and children give me all the time, I have every reason to be an optimist. Lastly, I would like to honor my father; I am convinced that the best thing he ever did for our family was to leave the country of our birth.